Peasgood & Son Farms (Langtoft, Lincs)
As with most farms effective security is a major challenge. Outbuildings, workshops and storage areas are often in remote locations away from the main living areas of a farm. This particular project had three main locations away from the main house the furthest point being over four miles away. Our team of highly skilled engineers were able to install a system that covered all of this. Starting at the main farm office we installed a system which then sent wireless signals across the fields stopping at each location where full HD PTZ cameras were installed. Now the system is fully up and running the Farm owner can view all of his key locations from the ease of his iPhone 6, whether he's in the field on a machine or from the comfort of his home in the evening.
PJ Thory
This company had challenging requirements. They have a quarry sorting operation located in the depths of the Fens. The customer wanted a CCTV system which could be monitored 24/7 but the location has no permanent mains power or telephone service. All we had was a large diesel generator, but due to planning restrictions this has to powered down in the evening. Getting a telephone line installed to the location wasn't feasible. Thanks to a friendly local farmer we were able to beam an internet signal from over one mile away across the field to the control room. Using the very latest in power management technology we were able to implement a system which would seamlessly continue to supply power to the CCTV system when the main site generator was powered down in the evening and weekends too. This resulted in the customer having full HD CCTV set up monitoring highly expensive machinery 24/7 in the middle of nowhere.
Hindmarch Co. (Peugeot) Stamford
Petrol Station CCTV can be a challenge. Moving vehicles and bright headlights can pose a problem when trying to identify situations that often occur in these environments. The owner was becoming frustrated with the level of crime that was happening at the location. Using the very latest in low light camera technology the cameras can now clearly monitor and identify events in all weather and light conditions on the forecourt. With the retails areas now covered with full 1080P HD cameras, this resulting in a very effective professional system.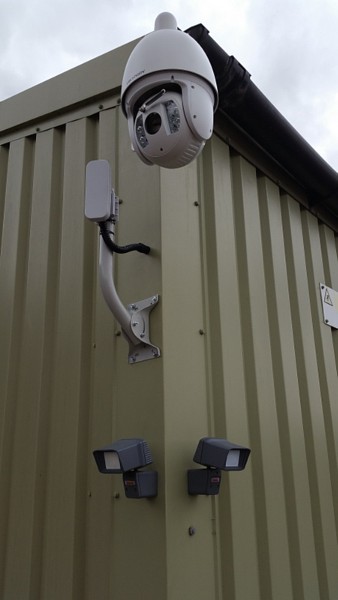 Ivatt Way Industrial Estate Peterborough
At this location we were faced with an aged system that was installed over twenty years ago, with most of the old cameras having failed. Our engineers spent considerable time assessing the location and infrastructure. The outcome was that we installed a new HD CCTV system using the existing structural masts whilst implementing a new wireless transmission system, in turn this saved the customer thousands of pounds in costs, resulting in very effective efficient high performance CCTV system. More technical information on this case can be given on request to our team.
Alistair Nottingham, Mana Education
We had our CCTV overhauled by Pro Storm and it has brought us into the 21st century - we now have a great reliable CCTV system that we can monitor remotely from anywhere in the world. Neil is always there to assist with any technical problems too. I highly recommend this company to anyone looking for CCTV.
Nicholas Forman-Hardy, Car Colston Stud, Nottingham
Highly Recommended
Pro Storm CCTV installed two CCTV systems. The jobs were carried out to a high standard and installed within days of quoting. The after-sales service has been fantastic, ironing out any tweaks we needed to make to the systems.
HE Payne Transport
This location had many sensitive areas that required high level coverage, from diesel storage, customer warehousing and large parking areas for over 60 large HGV vehicles. The very best surveillance for this high level of assets was key for this environment. With a mixture of 23 PTZ and static cameras the site now has the very latest in HD CCTV technology now located at this site.